Emergency Intercom and Train Stops
The Emergency Intercom is a kind of emergency equipment inside the train. All of them are located near the train doors for passengers to inform the Train Captain / the Control Centre if there is any emergency. For example:
✓  Common emergencies such as fire or electric shock
✓  A passenger on train does not feel well while his or her condition is deteriorating that cannot leave the train and seek for assistance on his or her own
✓  A criminal act is happening such as fighting
✓  Mechanical problem that affects the sake of safety directly such as a Driver's Cab Door was opened suddenly or the door seal was loosen
✓  The train is moving with an nipped object and the significant size of it is hanging outside the train door
etc …
The Emergency Intercom is however a part of public address system, you should wait for your Train Captain switched a right channel and replied before starting the conversation
The court could impose fines or imprisonment if there is any abuse, for any non-emergency events:
✗ does not involve any injuries
✗ is non-criminal act
You should call the Station Control Room and seek for staff assistance instead
For safety reasons, the train will make an emergency stop when any part of it is still within the platform if any Emergency Intercoms has been activated. Therefore, consider to help a sick passenger to alight at next station then seek for staff's assistance. Or you may activate the Emergency Intercom once the train left the platform for a period of time in order not to delay his or her medical treatment.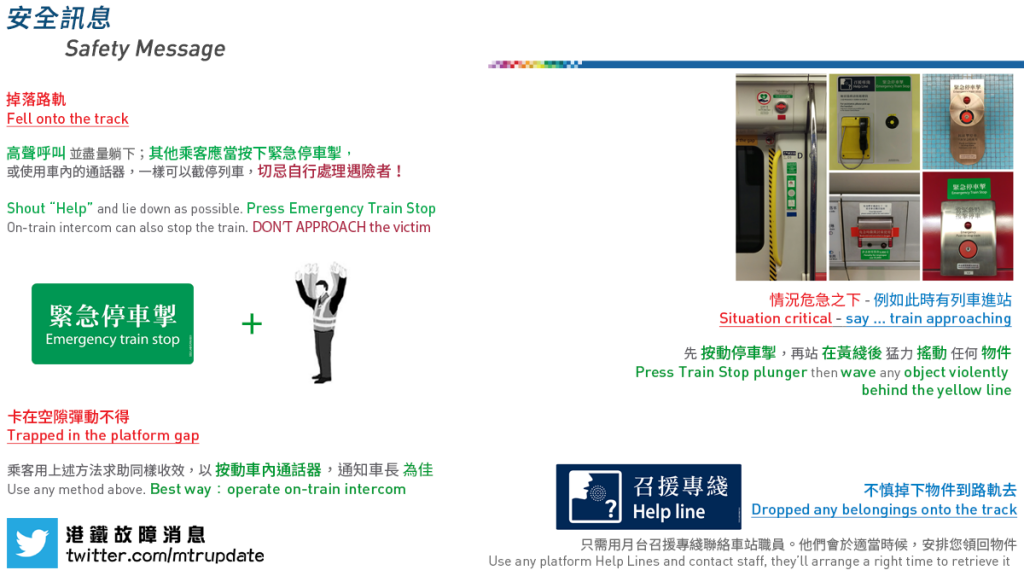 The Emergency Train Stops is a kind of emergency equipment on the platform. Erected every 50 – 100 metres for passengers to stop train near platforms or to prevent any trains enter the station during emergencies,  for example:
✓  Any objects dropped on the track with considerable size
✓  The train is moving with an nipped object and the significant size of it is hanging outside the train door
✓  A passenger train did not allow passengers to join and alight when berthed at the platform and pulled out from the station
etc …
The court could impose fines or imprisonment if there is any abuse;
✗ A passenger on the platform or a train does not feel well
✗ A crime has happened on the platform
✗ Common emergencies occurred on the platform such as fire or electric shock
Call the Station Control Room and seek for staff assistance if you encountered any event above therefore trains will continue to run and allow people leave the scene by trains.