Stage 2.2
This scheme is applicable for students in Hong Kong aged 12 – 25 who attend their classes for not less than 20 hours each week during term time.
The Automatic Fare Collection system would only charge Student Privileged Fares from "Student Status" owners. While the "Status" feature is exclusive for Personalised Octopus cards, the definition of a certain "Status" may change according to the cardholder's age or according to the social norm.
Therefore, qualified passengers are required to bring their form to any Customer Service Centre or Light Rail Customer Service Centre in order to activate their "Student Status" or get your school's endorsement to prove your "Student Status" is still valid.
| The applicant's grade when (s)he submitted his/her previous application | Validity (years) |
| --- | --- |
| Primary 4 (aged 12+) | 6 |
| Primary 5 (aged 12+) | 5 |
| Primary 6 (aged 12+) | 4 |
| Secondary 1 | 3 |
| Secondary 2 | 2 |
| Secondary 3 | 1 |
| Secondary 4 | 3 |
| Secondary 5 | 2 |
| Secondary 6 | 1 |
| Special Education | Depends on the completion date of the course |
| Universities and other institutions | 1 |
No forms and handling fee submissions are required if the valid period is more than 1 year since your last application.  Reminders are also displayed on Octopus Validators to show the expiry date of your "Student Status", the date should be 31/Oct of different year in general speaking.  Please note that MTR Fare Savers are for "Adult Status" Octopus only.
---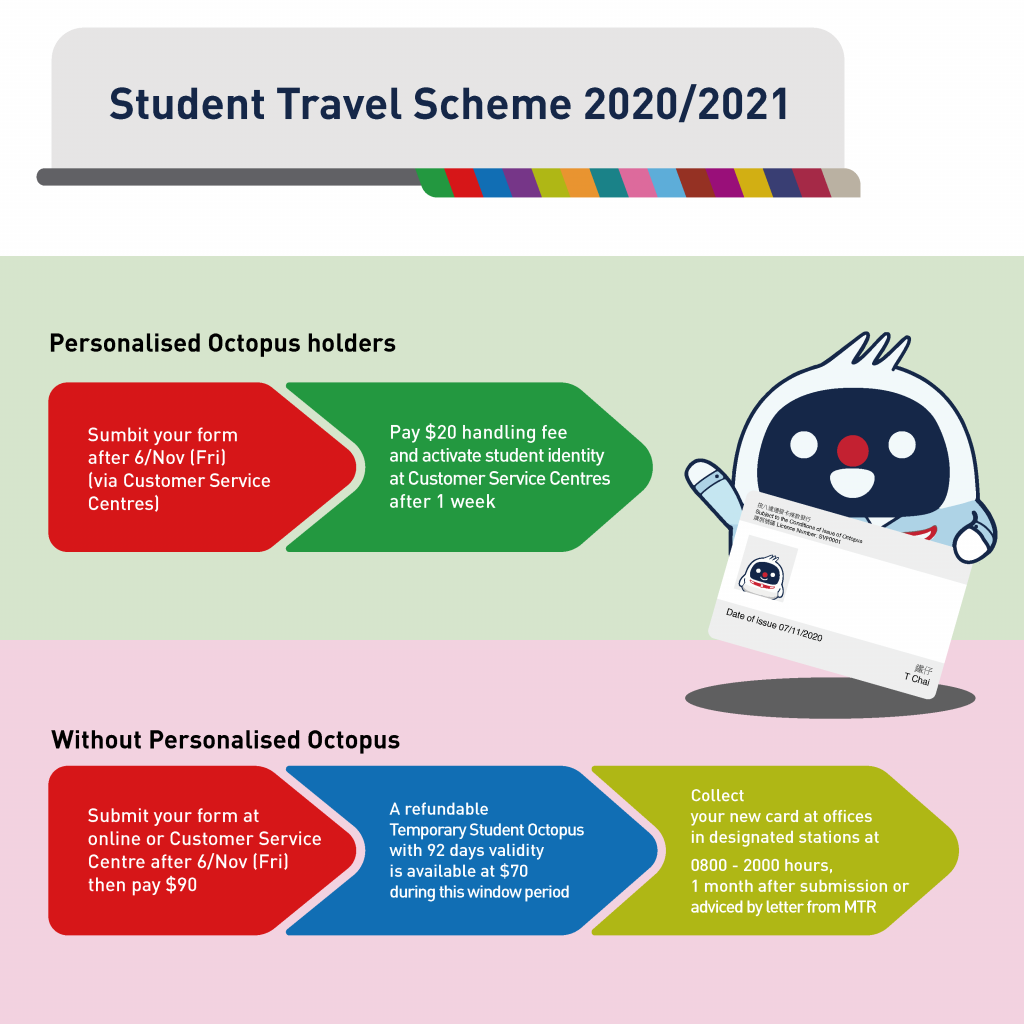 You may submit your form and handling fee to any Customers Service Centre or Light Rail Customer Service Centre or collection boxes nearby. However, the following do not accept applications forms:
■ Sunny Bay and Disneyland Resort Stations
■ Racecourse, Lo Wu and Lok Ma Chau Stations
■ Hin Keng and Kai Tak Stations
■ Wong Chuk Hang, Lei Tung and South Horizon Stations
■ Airport Express counters
School-processed application is not available this year
Students can 
submit electronic application forms online
, pay the application fee and collect Octopus cards at designated counters. For students in primary schools, secondary schools, international schools and special schools can pay and extend "Student Status" in
Octopus App
after submitting the electronic form and receiving an email confirmation.